For now, we are doing a 'soft reopening'… with continued online classes and a few in person special events!
Full Moon Restorative Yoga and Sound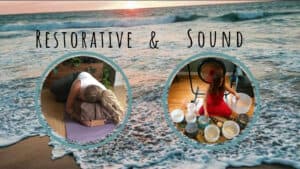 Join Tiina Kivinen and Nicole Laureen for this evening of restorative sound magic. Restorative yoga draws upon the healing force of deep relaxation, using gentle and supported yoga postures, guided meditation and relaxation. While you rest and relax, you will receive the healing vibration of sound, with alchemy crystal singing bowls, gong, chimes, rattles, and angelic song channeling. When created with focused intention, the power of sound vibrations are profoundly healing for the human body, mind, and spirit, bringing your experience of restorative yoga to a new level of depth. Spaces are limited, registration only.
Restorative Magic and Yoga Nidra
with Tiina Kivinen and Laura Dunford
Date and Time: Sunday, March 7, 2 – 3:30pm
Price:$45 + HST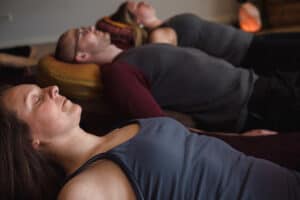 Join Tiina Kivinen and Laura Dunford for Restorative Magic and Yoga Nidra. This session will begin with Restorative Yoga, gentle, relaxation based yoga poses using plenty of props for support and ease. Restorative Yoga supports the release of tension, balancing of the nervous system, and meditative stillness. We will bring in all the delicacies of optional aromatherapy, sacred sound and poetry. Then, we journey from the stillness and ease of Restorative Yoga into a Yoga Nidra, 'transformational yogic sleep' practice. Yoga Nidra is an ancient form of regenerative healing, through which you are guided into a state of deep rest. Yoga Nidra is an effortless meditation, all you have to do is relax in a very supported and comfortable position, listening to the voice of the guide, and be carried on a inward journey into the deepest states of healing and transformation. Yoga Nidra is known for its therapeutic benefits, in supporting the nervous system, enhancing sleep, and accessing inner wisdom through the subconscious and unconscious layers of the self. Tiina Kivinen and Lauretta Dunford are both passionate and experienced Restorative Yoga guides, both certified in Yoga Nidra as well.
*Covid precautions will be followed, including enhanced cleaning and physical distancing. Masks are worn when coming and going and moving about the space. Please bring your own Yoga props (mat, bolster, pillow, blanket, eye covering), however we will have some available if needed.
Chakra Bliss Aromatherapy Restorative Yoga
with Tiina Kivinen and Angella Windrem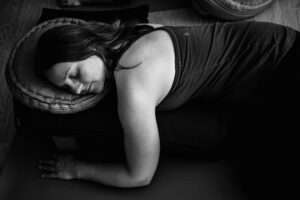 During the Covid 19 Pandemic, we will be guiding this class following physical distancing and avoiding touch. We still have many ways to enjoy the benefits of aromatherapy. If we do come closer to you than 6 feet, (for example as we spritz aromatherapy around the room), we will wear a mask.
Join Tiina and Angella for a restorative style yoga class integrating a journey through the Chakras (energy centres in the physical/emotional/ energetic body), using aromatherapy essential oils to deepen and enhance the exploration. We carefully choose yoga postures and essential oils that correspond with each Chakra to carry you through a journey of self inquiry, deep rest, and healing. Essential oils have the potential to deepen your focus and enhance your awareness through the yoga experience, with the added benefit of the healing qualities of each aroma. No experience is needed, all are welcome, unless you have a sensitivity or allergy to essential oils.